"I like the Montessori method. It teaches through play. It makes learning a pleasure. It follows the natural instincts of the human being . . . The present system casts the brain into a mold. It does not encourage original thought or reasoning."
~Thomas Edison
OUR SCHOOLS
Monarch Montessori of Denver is two Montessori schools under one roof!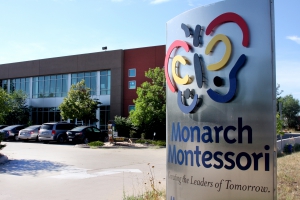 Monarch Montessori of Denver was developed in 2010 by a group of dedicated Montessorians and educators looking to bring a unique design into practice. The vision was to create a stable environment in which a child could continue growth within the Montessori practice from infancy through fifth grade. They began with infants through preschool and in 2012, the charter application with Denver Public Schools was approved and Monarch is now two schools under one roof. Monarch offers a dual language (Spanish & English) path in both Children's House and the elementary school. Monarch is located on five acres of property with the largest outdoor learning program in all of Denver Public Schools. Monarch is a small school feel with a strong community. In an effort to make Montessori accessible to all, we accept CCAP, Denver Preschool Program, Universal Preschool Program and of course our elementary program is a FREE, public option through Denver Public Schools.
First Steps at Monarch Montessori is a non-profit, tuition based school for infant, toddler and primary (preschool). Elements of the program cater the various needs of families and children in the surrounding neighborhoods. Part-time schedules for infants and toddlers allow children to experience the Montessori curriculum without needing to be away from the adult caregiver 5 days a week. Extend hours and year-round care caters to working families.
Children's House at Monarch is comprised of both First Steps and Elementary by combining the private ECE 3 and 4 plus the free public kindergarten in the three year cycle, staying true to the Montessori model.
Monarch Montessori of Denver Elementary is a Kindergarten through 5th grade free public charter Montessori school through Denver Public Schools. Children do not have to be from the DPS territory to attend Monarch. All children must go through the Denver Public Schools of Choice process to become a student at Monarch Montessori of Denver Elementary.
As a first time mom, I put a lot of research into what school to send my infant to. My husband and I both work full time and wanted to feel confident my son was not only safe, but engaged and actively learning when I couldn't be with him. 2 1/2yrs later, Monarch continues to exceed our expectations. We couldn't be happier with the communication the faculty has with the parents
Monarch Montessori provides daycare and K-5 in the same building. We drop off both kids in one stop. The First Step teachers develop bonds with the young kids and follow them thru elementary school. This creates a real family feel throughout the building. The staff, teachers, and administrators are great. Everyone knows my kids by name and really cares. The montessori method is also great at fostering creativity.
My daughter had a great experience at Monarch with Ms. Amy as her teacher for three years! The Montessori curriculum taught her independence, critical thinking, and empathy along with all the academic work. Plus, her learning was individual and small group, so she was able to move at her own pace. We recently moved to Texas and she was ahead of the game at her new school.
My 3 kids attended Monarch for 3 years after my son at age 7 did not want to go to school anymore. His previous traditional school called me every day to tell me how bad my son was behaving. I was so desperate and hopeless until a friend told me about Monarch Montessori. I went over to check the school and loved the Montessori way of teaching! I drove 20 miles back and forth for 3 years and it was the best decision. My son was so motivated and enjoyed going to school. The teachers are phenomenal, engaging and my son loved going there. Now he is ready to start middle school. I really recommend this school!