The Monarch Leadership team provides strategic vision and implementation of school goals. They provide leadership, support and assessment to ensure that every child is prepared to excel in education and in life. These leaders allow a high level of achievement for both teachers and students. They foster education, child development, research, health and safety, quality assurance, emergency planning, and Montessori curriculum to provide students with an home-like, nurturing quality educational environment.
"The greatest sign of success for a teacher is to be able to say 'The children are now working as if I did not exist.'" ~ Maria Montessori
Laura has worked in education for nearly two decades. In addition to teaching in Colorado, Texas and Mexico, she also has spent time directing programs at the district, city and state level supporting learner-centered approaches to learning through strong support of teachers and school leaders. Laura has been active in organizations that focus on learner-centered educational alternatives and education reform, and she is constantly learning about a variety of educational models around the world. This work led to her love for the Montessori method, and ultimately to her current work at Monarch. Laura is bilingual, with a Masters degree in Bilingual and Multicultural Education, and she loves being part of a diverse, globally-aware Montessori school that offers children a peaceful community and freedom in learning. Laura is also the proud parent of a long-time Monarch student.
Brenda Reyes-Rangel has been teaching at Monarch since April 2010. Brenda is well-versed in development at each level, preschool age, toddlers and infants. Brenda is Infant/Toddler Montessori Certified through the Montessori Education Center of the Rockies and has her Director License . Additional certifications include Early Childhood Teacher and Infant Nursery Supervisor. Brenda loves that through the Montessori curriculum an infant has freedom of movement. It is through this preparation of the environment that gross motor skills develop faster and stronger. In her free time she likes to be with her family. Brenda is a mother of three beautiful children and loves traveling to Texas to visit family.
Ms. Mairi began her educational career teaching English and Cultural Studies at Shandong Jianzu University in Jinan, China. While there, she spent time volunteering in rural primary schools and discovered a love for working with young children. Additionally, she worked at Volunteer Teaching Corps, inner city schools in Chicago, and Montessori Charter schools. Mairi holds a Master's Degree in Education and Social Policy, BFA in Interdisciplinary Art and Art History, Special Education and Teaching endorsement, and Elementary Montessori Teaching certificate. Mairi was attracted to Montessori as a philosophy and as an educational process. In the beginning, it was really about building up her craft and challenging her own understandings of how students could and should be taught. What keeps her in a Montessori School, is the unwavering belief in every child's potential. At Monarch, we do not restrict the child's potential with our own limited imagination, but we ensure that every child is valued. We also work hard to create a dynamic definition of what "valued" means and honoring that definition and belief is embedded in everything we do. In Mairi's free time she enjoys traveling and hiking with her husband. She also digs making massive masterful messes that she calls art.
Noel Giametta Magee is a founding member of Monarch Montessori and a key player in the formation of the school's mission and growth over the years. Noel has 6 years teaching experience, prior to becoming employed as a school administrator. Administrator specialties include grant writing, building expansions, balancing budgets, HR, compliance and payroll. Noel's educational background is centered around Early Childhood Education; including a BA in Human Development with a Minor in Early Childhood Education, and Graduate Degree from the University of Colorado in Early Childhood Special Education. Additional credentials include; Early Childhood Teaching Certification, Large Childcare Center Director Certification, and a Montessori Teaching Certification. Noel volunteers with educational programs in the community working part-time at Anchor Center for Blind Children and is a Board member/ECE Committee Chair of New Legacy Charter.
Melanie Stewart-Lopes is a founding member of Monarch when they opened their doors in April of 2010. She rejoins Monarch in 2019 as the Operation and Marketing Manager after some time working in the corporate world and doing consulting work with marketing and recruitment for multiple charter schools and businesses. As a young student who struggled with traditional education, she is a strong advocate of Montessori and believes that education is not a one size fits all as we are all unique learners. Melanie began working in education in 2001 with Cherry Creek Schools as a para and then becoming a teacher, teaching many grade levels prior to joining Monarch. Melanie holds a Bachelors of Fine Arts in graphic design with a background in design, marketing, events and recruitment. Melanie has a passion for gardening and building things so overseeing the Outdoor Learning and Urban Garden Spaces is one of her favorite roles at Monarch.
Jenifer has ten years of experience developing and facilitating engaging environmental programming for youth and adults in a variety of outdoor settings. Her love of nature and positive attitude inspires others to explore the world around them. Jenifer's horticulture expertise includes vegetable gardening, native plants and developing local wildlife ecosystems. She is also a beekeeper, and an urban homesteader with chickens. She has worked at the Butterfly Pavilion, Arapahoe County Open Spaces and Hudson Gardens. Jenifer is a certified interpretive guide, Project Learning Tree facilitator, and active member of the Colorado Alliance for Environmental Education. She holds a Bachelors of Art degree from Colorado State University and a Master of Public Administration degree from CU Colorado Springs. She is currently pursuing an Information and Library Science certificate to help Coloradoans increase their environmental literacy skills.
Veronica joined the Monarch Montessori family in December 2019. Her professional background is in office administration. A proud Texan, she moved to Aurora in 1996. Veronica is bilingual in Spanish and English and worked as a bilingual translator for almost a decade. She is a proud mother of four handsome boys and a beautiful granddaughter. She loves working around children, and has been very blessed working with the First Steps and Elementary families at Monarch. The staff and all the teachers are a great team to be part of!
Mea has grown up around childcare her whole life, her mother was a teacher and later a director. Mea joined the Monarch team in April 2013. She loves that Montessori philosophy recognizes that children are not made to stay in the same mold. The Montessori environment builds confidence, even in the infant program. And, it is something that is easy to teach in the home! Mea's hobbies include travel, watching movies, and spending time with family and friends. Her favorite vacation spot is Ireland…so far.
Anna Simental
Food Service Manager
Ana Simental started when Monarch opened its doors in April of 2010. She has worked in a kitchen for many years and enjoys cooking for the First Steps students at Monarch. She has also taken Early Childhood Courses and Infant and Toddler theory. While Ana is not working she enjoys spending time with her family and going to the stock show and of course she loves the Broncos.
Infants (Nido)
All of Monarch's Lead "Guide" teachers have a degree in education or related field and an additional two years of Montessori Teacher training and certification. Montessori teacher training and certification ensures that each teacher is prepared with the latest child developmental research, childhood safety and wellness, childhood learning techniques, classroom design preparation for dynamic learning, communication and leadership skills, and academic Montessori curriculum that prepares students to excel in education and in life.
Marisol Guzman
Nido Lead Guide
Marisol's background is with teaching infants and toddlers prior to joining the Monarch team. Her teaching approach is to help children grow and learn by modeling and guiding them. Marisol hold an Early Childhood Teacher credential. When not in the classroom, Marisol enjoys spending time with family and exercising.
Jessia Solis
Nido Asistant
Bio coming Soon
Leydy Herrera
Nido Assistant
Bio Coming Soon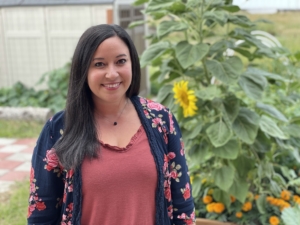 Lacy Williams
Toddler Lead Guide
Lacy has always been interested in working with children, including volunteering in elementary schools, being a nanny and raising a daughter. In 2014 she began teaching at Monarch and holds a Montessori Teaching Certificate. She loves that Montessori philosophy promotes respect for the a child's independence and teaching the importance of caring for themselves, others, and the environment. When not at work, Lacy loves Netflix, relaxing, hiking, camping with my family and friends, and going to concerts. Her birthday is June 11th and favorite vacation spot is Miami.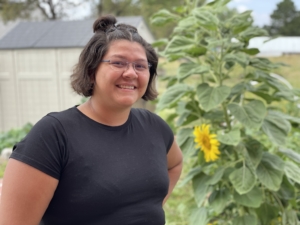 Mariah Thompson
Toddler Lead Guide
Bio Coming Soon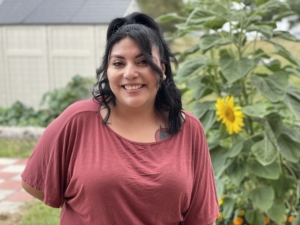 Arianna Weaver
Toddler Lead Guide
Bio Coming Soon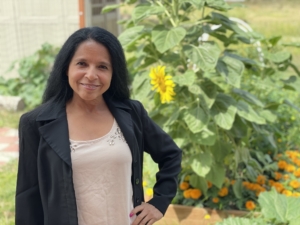 Lily Rengifo
Toddler Assistant Guide
Bio Coming Soon
Mireya Guzman
Toddler Assistant Guide
Bio Coming Soon
Sofiya Rozenberg
Toddler Floater
Bio Coming Soon
July Deras
Toddler Assistant
Bio Coming Soon
Gisela Diaz
Toddler Assistant Guide
Bio Coming Soon
Prathima Srinidhi
Primary Lead Guide
Bio Coming Soon
Brisa Devora
Dual Language Primary Lead Guide
Brisa Devora has always had a passion for working with children. Since her first job babysitting and then her experience raising two children, Brisa has found her calling being a teacher. The Montessori philosophy resonates with Brisa and she is amazed at how students at Monarch are growing their independence at such a young age. When Brisa is not at work she enjoys spending time with her family, watching movies and being outdoors.
Nirmala Gupta
Primary Lead Guide
Nirmala has over a decade of experience working in Montessori classrooms. Her educational background includes a Bachelor Degree in Business Studies, an Early Childhood Teacher Certificate and Primary Montessori Teaching Certification completion in May 2017. She most values that Montessori method instills in children a love of learning and self-driven learning. That all the Montessori materials and subject matter moves from the concrete to abstract learning and Montessori is designed to make learning fun. Her favorite quote by Maria Montessori says "Our care of the child should be governed, not by the desire to make him learn things, but by the endeavor always to keep burning within him that light which is called intelligence."
Shaudae Bryant- Collins
Primary Assistant Guide
Bio Coming Soon
Laura Guzman
Primary Assistant Guide
Bio Coming Soon
Melissa Guzman
Primary Assistant Guide
Bio Coming Soon
Andrea Ramos
Primary Assistant Guide
Bio Coming Soon
Serenity Casillas
Primary Assistant Guide
Bio Coming Soon
Zoey He
Kindergarten/1st grade
Zoey has worked in various classrooms before joining the Monarch team. She loves that Montessori encourages students independence, freedom within limits, and respects children's natural psychological, physical, and social development. While not at Monarch she does photography, graphic design, and paints. She also spends time with her family, and playing mahjong. Her birthday is November 3rd and China is her favorite vacation spot.
Sandra Martinez
Teacher Assistant
Bio Coming Soon
Gracie Franklin
Kindergarten/1st Grade
Bio Coming Soon
Alesandra Rodriguez
Montessori Lead
Ms. Alesandra started her teaching career in 2011 in a toddler classroom and then substitute teaching at the elementary level and then a lower elementary teacher at a Montessori Charter School in Miami, FL. After two wonderful years, she relocated to Denver, CO and found a new home at Monarch Montessori in 2016. Her favorite part of teaching Montessori curriculum is being able to foster independence, provide individualized instruction and most importantly, being able to teach using hands-on activities. Alesandra's classroom is setup to make Montessori education fun and engaging. When not at Monarch, she enjoys hiking the beautiful trails in the area with her dog, practicing yoga and traveling.
Gina Macias
Assistant Teacher
Ms Gina is originally from Los Angeles, CA and moved to Denver in 2001. She graduated from Manuel High School in 2006 and attended the Community College of Denver as well as the University of Colorado Denver. She has two adorable children, Michael and Jorge.
Ellen Scholten
Montessori Lead
Bio Coming Soon
Silvia Maldonado
Assistant Teacher
Ms. Siliva joined Monarch in 2018. Siliva, originally from Chihuahua Mexico, studied at Universidad Autónoma de Chihuahua for a degree in Spanish Literature. She was drawn to Montessori by wanting to explore a different way of teaching. In her free time, she enjoys reading, writing and spending time with her dogs.
Maria Berman
Montessori Lead
Bio Coming Soon
Noor Ashrafi
Montessori Lead
Joining Monarch in 2016 was a dream come true for Noor! She is thrilled to be surrounded by child-centered Montessori guides! During her 26 years as an educator, she served as a teacher, reading specialist, teacher trainer, academic dean, and college professor overseas. Noor's Montessori journey began after touring several schools abroad. She was drawn to the family feel and the whole child approach to learning in Montessori. In her spare time she enjoys traveling with her family, hiking and baking.
Grace Ochs
Montessori Lead
Grace Ochs was born in Ghana, West Africa and has called five different African countries, two European countries, and four US states home. She received her B.A. in Anthropology from Smith College in Northampton, Massachusetts and is an alumna of the Americorps VISTA program. Grace received her Lower and Upper Elementary Montessori certification training from the Montessori Education Center of the Rockies, and is working toward her Master of Education degree in Montessori Integrative Learning from Endicott College in Beverly, Massachusetts. When she is not in the classroom, Grace enjoys cooking, traveling, hiking, and a good book!
Liz Walchie
Montessori Lead
Liz completed her Montessori Teaching internship at Monarch in 2015 and grown as an amazing teacher. She is well versed in one-on-one tutoring working with various learners. Liz's degree is in Applied Linguistics and holds a Montessori Elementary teaching certificate. The peace curriculum in Montessori has a special place in her heart. It is a priority to teach the next generation about loving others and self, then they will have this foundation when they are older. Liz's hobbies include hiking in the mountains, traveling to beautiful places, and reading "A Song of Ice and Fire" series.
Leslie Snyder- Newquist
Montessori Lead
Leslie Snyder- Newquist holds a Bachelor of Arts in Music Performance for tuba from Metropolitan State University and a Montessori Certificate from the Montessori Center of the Rockies. Originally from South Dakota, Leslie started at Monarch Montessori as a substitute teacher. She began teaching full time in 2014 after falling in love with the students and the philosophy. Before moving to Denver to pursue her education, Leslie worked as music director for NeSoDak youth camp. Leslie enjoys her family, playing the tuba and spending time in the great outdoors.
Nikki Breaux
Assistant Teacher/Long Time Montessorian
Nikki has been teaching in Montessori classrooms since 2000, beginning as an assistant in a primary classroom. Nikki attended Center for Montessori Teacher Education in New York (CMTE/NY) and led a 3-6 classroom for 6 years before moving into Lower Elementary and eventually into Upper Elementary. She is currently seeking a Special Education degree at Grand Canyon University. Nikki values on Montessori curriculum were summed up beautifully in a quote from one of her fourth graders. Her student wrote the following about Maria Montessori in his peacemaking journal, "The thing I admire most about Maria Montessori is that she knew that everybody could learn. She made materials for that to happen. She made a goal for that to happen. She helped children all around the world to learn. She taught teachers so that they could help children to learn. Here is a quote that shows that she reached her goal: 'The children are now working as if I did not exist.'" Darrius, 4th Grade, Monarch Montessori of Denver. In her free time, Nikki enjoys live music, geocaching and watching skateboarding.
Laura Weiner
Physical Education Teacher
Laura Weiner grew up in Lawrence, Kansas but spent many family vacations skiing and hiking in Colorado and always knew she would end up calling Colorado home. She received her Bachelor's degree in Sociology at Fort Lewis College and then moved to San Francisco where she taught Physical Education for two years at a Blue Ribbon Elementary School in Chinatown. After having taught children for over 12 years in many different capacities teaching PE quickly became the forum she felt most passionate about and where she felt the most influential. She loves playing sports and being active and truly enjoys inspiring children to be more active as well. In 2012, Laura received her Masters and Licensure in Elementary Education from Regis University.
Jerod Sarlo started at MMDC just this year and is excited to be working with the students on all things music. He has a degree from the NewSchool University in NYC and has been teaching privately since 15 and in schools for the last 10 years. Jerod values individuality, creativity, and exploration which makes Montessori a perfect fit. In his spare time, he plays with different musical groups, likes to travel, swim, hike, and cook.
Shanna Meyers
Montessori Lead
Shanna Myers, a Colorado native, began teaching lower elementary at Monarch Montessori in the fall of 2017, although she has been teaching public Montessori for 8 years. Shanna graduated from Colorado Christian University with a B.A. in Elementary Education, received her Lower Elementary Montessori Credential from the Montessori Education Center of the Rockies, and most recently received her dual masters degree in Linguistically and Culturally Diverse Education and Special Education. Shanna is drawn to Montessori because she loves students taking ownership of their own learning and being able to choose works that best align with their needs. When she is not teaching, she spends time with her husband, and toddler, Daniel. They love to be outdoors and to read books!
Nam was born in Manhattan, New York, but grew up in Berthoud, Colorado. Her passion for Montessori education stems from her own experiences attending a Montessori preschool and kindergarten, an experience that has influenced and inspired her on every step of her educational journey. Nam completed her undergraduate studies at the University of Colorado at Boulder, where she received a BA in Speech, Language, and Hearing Science, with a minor in Linguistics. She earned a Master's degree in Elementary Education from the University of Northern Colorado. Nam loves teaching ELL students, and as a language-learner herself, she really appreciates their unique journey! She speaks English and Thai, and is currently learning Spanish and American Sign Language. Nam's favorite things to do outside of school include reading, traveling, seeing live theater, and spending time with friends and family.
Melissa Tomlin
Reading Specialist
Melissa Tomlin was born and raised in Aurora, Colorado. Moving only once, Melissa attended Colorado State University in Fort Collins to pursue her Bachelors of Social Work degree. She has also earned a Masters Degree in Elementary Education from the University of Northern Colorado. Prior to working at Monarch, Melissa was working as a substitute teacher for a nearby district, but she is very excited to make the switch to Montessori learning. In her free time Melissa enjoys going to the mountains, cheering for our local sports teams, and spending time with her friends and family.