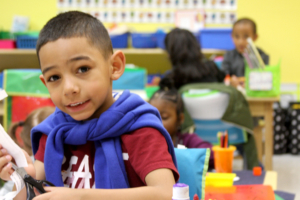 At Monarch, we cultivate the love of learning that carries on throughout a child's educational journey, not only preparing them for college but for life!
Thank you for taking the time to view our virtual tour of the elementary program at Monarch Montessori. Congrats…You took the first step to your child's future success!  Due to Covid-19 we are now presenting our school virtually but the plus is that you can do it when it is convent for you.  Below is a series of videos to introduce our community to your family.
Take your time and watch at your own pace…just like our students learn in the classroom. We suggest having a paper handy to write down your questions and sign up for a Q&A session to get all those burning questions answered. Fill out the form below to receive your personal invite.  Note: Any photos or videos in the classrooms without masks were shot before March 2020.
Overview of Monarch Montessori of Denver (time/8:26)
Messages from Laura Pretty, Executive Director (time/6:36)
A glimpse into the dual language classrooms (time 3:44)
Denver Public Schools Application process (time/1:29)
Montessori verses Traditional School (time/5:44)
 Sign up for a meeting with our Executive Principal after Round 2 begins on April 6, 2021